'Women who break rules intrigue me': Michael Kors channels Gloria Steinem | New York fashion week
Gloria Steinem may, for most people, be known as a key figure in feminism. But she is also increasingly gaining a reputation as a style icon.
The latest evidence appeared around the hips of models at the Michael Kors show at New York fashion week on Wednesday. Many of them wore a version of the low-slung, decorated belt that has become a Steinem signature. It appeared over sweater dresses, flares and miniskirts.
Steinem's belt, with its silver decoration, is often a concho – a design that has its roots in Navajo culture. In a steinem-style" data-link-name="in body link">2015 interview with Lena Dunham, she named it as an element of her "power outfit" that she wears when she wants to feel like "a rad bitch".
The majority of Kors's show was less rad and more the refined and tasteful clothes appreciated by the discreetly wealthy women that make up his customer base.
There were long herringbone coats, skirt suits and trouser suits, as well as sequin dresses and glamorous evening coats. A colour scheme of brown, taupe, camel on cashmere and tailoring felt very Succession's Shiv Roy.
At a press conference before the show, Kors displayed a mood board of references for the collection – featuring 1960s and 70s stars including Steinem plus Jane Fonda, Aretha Franklin, Yoko Ono and Cicely Tyson.
"The women who intrigued me then and still intrigue me today are the women who break the rules," he said. "They're strong, powerful, smart [but] they're happy to admit that they love fashion."
As well as learning about feminism through these famous women, Kors also had a lesson at home. His own mother was featured on the board – an athlete and feminist who once tried out for the Philadelphia Eagles.
"They said that they were going to have an open call for football players. So my mother went to Philadelphia, and they refused to allow her to [try out]. I learned from her you never listen to the word 'no'. You just go forward."
While his clothes might be out of the price range of many women, Kors suggested that for those who could afford them, his clothes work for everyday life.
On the brand's Instagram account he playfully pushed against the glossy influencer culture that dominates fashion. A version of his mood board with Steinem and Tina Turner was posted with the caption: "These are my influencers."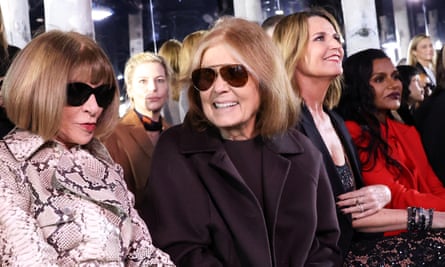 "For me, the best thing is when I see that the ideas come to life on the street, in real life," he said. "All of the women [on the mood board] could wear this today and to me, that's the mark of great design – real clothes that people pull from their closet for years to come."
While Kors's aesthetic will always come with a work-ready uptown polish – "My customers are big-city customers," he said – pieces such as a fringed suede minidress inspired by Turner and a gold metallic jumpsuit with jumbo flares hinted at his costumer letting her hair down after dark too.
The show's casting was diverse across ethnicity, size and age – with 49-year-old Amber Valetta included. Kors was keen to emphasise the inclusivity of his clothes – and how he has long made this central to his brand.
"To dress people of different ages or different sizes, it should never be a trend. It's part of our job," he said.
The inclusivity message is no doubt heartfelt but it may also in part come from a need to bring in more customers. Results from his parent company Capri Holdings, released this week, show Michael Kors revenue to be down 7.2% from the previous quarter.
Related Posts